Ultra-thin – The complete packaged battery is 1.35mm thick.
Bendable & Twistable – The battery has high flexibility. In our bending tests, it maintain stable performance after 1000 cycles of bending radius 20mm. (See Figure below)
Enhanced Energy Density – The battery support high current. It can support 1C charging and discharging.
Safety – The nanofiber maintains a stable and safe electrolyte medium. Even if the battery is cut or pierced, there is no overheating or explosion. It will maintain power supply for a short period of time.
Customizable Form Factor – Lionrock has the flexibility to tailor make the battery to fit different dimensionsoffers customized form factor to suit the need of wearable industry startup ecosystem.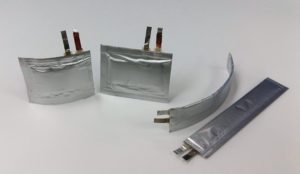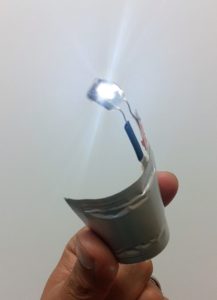 Product Specifications
Item
Specifications
Model
3X12019
Cell Types
Rechargeable Li-ion Battery (Pouch Cell Type)
Cell Dimension
120(L) x 19(W) x 1.35(Thickness) mm
Weight
5.2g
Rated Capacity
CC_CV mode: 80mAh
Impedance
0.26Ω (±0.1Ω)
Standard Charges
0.25C (up to 4.2V)
Standard Discharges
0.25C (down to 2.7V)
Max Charge
1C
Max Discharge
1C
Operating Temperature
Charging: 0-45°C
Discharging: -10-+60°C